Enquiry
Let us know what your requirements are, we are always happy to serve you.
Enquire Now »
Contact Now
Aishwarya Agri Processors Pvt. Ltd.
Survey No: 121,122,127
Kuntloor Village, Hayathnagar Mandal
Ranga Reddy District - 501 505
Andhra Pradesh, India.
Quality Policy
Aishwarya Agri Processors formally Aishwarya Industries has been recognized as a star Export House by the Government of India.
Quality forms the cornerstone of Aishwarya Agri Processors processing policy. The company has a sound quality policy in place that constantly monitors the flow of activities in the company from procurement to processing and packing & storing.
The company follows a uniform quality and consistency policy for all consignments and ensures that all rice product packages are delivered as per the agreed specifications/norms of quality.
Apart from a professional Quality & Delivery policy, Aishwarya Agri Processors also ensures that the health and safety interests of the employees are well taken care of and adequate measures are in place to monitor effective implementation of employee welfare policies.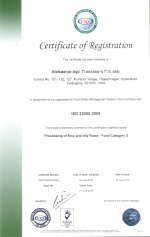 ISO 22000-2005 Certificate
Certificate of Registration
One Star Export House